The average natural gas home emits 46% less carbon than its non-gas counterpart
Including a natural gas tankless water heater (instead of a non-gas tank-style water heater) will prevent 3,000 pounds of carbon dioxide from entering the atmosphere every year
Natural gas can be a key part of meeting energy codes and becoming ENERGY STAR® qualified (Start by including an ENERGY STAR certified natural gas tankless water heater!)
It Pays to 'Build Green & Energy-Efficient'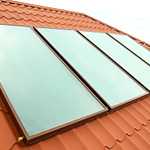 According to the National Association of Home Builders (NAHB):
Nearly 75% of homeowners say energy-efficient features would strongly influence their decision to purchase a new home
Over half of all homebuyers surveyed would pay $5,000 to $11,000 more upfront if they could save on utility bills
In the last five years, the green building industry has evolved from a $7.6 to a $60 billion dollar market
Green building now represents 1-out-of-every-10 building starts
More than 97% of homeowners are aware of green building's advantages
Give homebuyers the savings and efficiency they demand and provide the many benefits of natural gas appliances. Or, call 407.656.2734 for more information.
Rebates/Incentives
Pass on rebates to your homeowners when you remodel (or build!) with natural gas appliances.
Plus, take advantage of numerous builder incentives, including:
Sales staff training
Co-op advertising
Yard signage
Point of sale materials
Field review
Possible rebates and incentives for high-rise construction
Potential tax rebates for supplementing solar energy with natural gas applications
And more!